[ad_1]

Story by: Tumaini Carayol The Guardian

Come rain or shine, an opening week filled with whispers of injury concerns or a perfect bill of health, rest assured that Novak Djokovic will deliver.
For over a decade he has made winning the Australian Open an almost yearly habit and he did so once again, holding off early pressure from Daniil Medvedev before cruising to a 7-5 6-2 6-2 win, clinching his ninth Australian Open title. Thirteen years since he stood on the same stage with his first title at 20 years old, he maintains his perfect record in finals at Melbourne Park.
In the process, Djokovic pulled off numerous notable achievements. He recovered from the abdominal injury sustained in his third-round match and ended Medvedev's rousing 20-match winning streak with a statement performance. Of the 15 times in the open era that the Australian Open men's singles title has been defended, Djokovic accounts for five of those instances.
With his sixth grand slam title since turning 30, he moves level with Rafa Nadal in that category. He still doesn't really seem that old. This is such a unique period in the sport, however, where every slam win and loss carries such weight, affecting how people view the history of the sport for years to come. As a result, one achievement stands above all: Djokovic has now won his 18th grand slam title.
Having burst into what once seemed a two-man race, both Nadal's and Roger Federer's 20 titles have rounded into view for the current world No 1. Truthfully, it seems most likely that Djokovic will catch them as he continues to line up all of the achievements that will define his career. In two weeks, Djokovic will record his 311st week at No 1 in the world rankings, surpassing Roger Federer as the all-time record holder.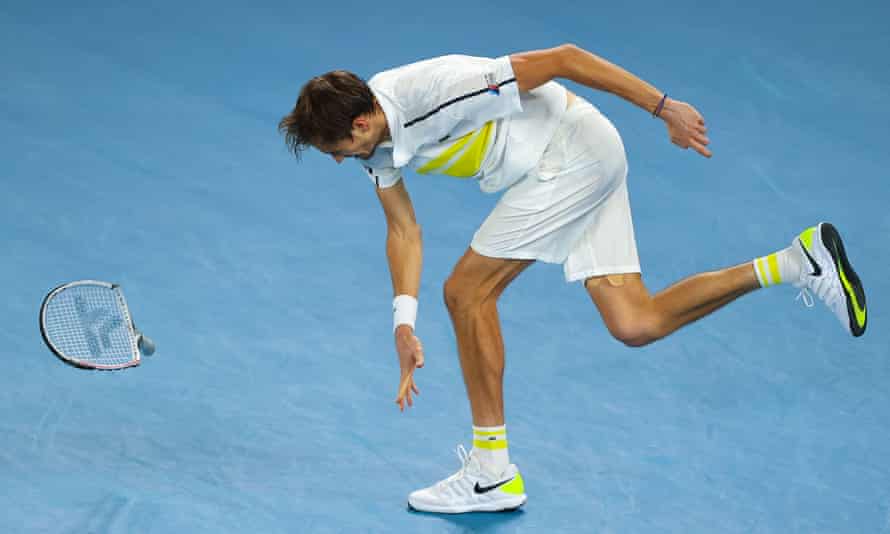 Despite Medvedev's suggestions that it would be Djokovic under the pressure of history against a challenger with nothing to lose, in the opening games it was he who looked arrested by the moment, immediately handing over his first service game. But what followed was a quality, tension-filled opening set as both players worked each other out in baseline exchanges of the highest quality.
In the inevitable long, breathless exchanges that followed, Medvedev drew numerous tired drop shots from Djokovic, while Djokovic chipped away at Medvedev with his subtle shot variation. The match seemed completely level at 5-5, but then all of a sudden it looked over. After holding serve to love, Djokovic seized the moment by transcending his level on the shot that has served him so well throughout his career – his return of serve. He swept to a 0-40 lead at 6-5 and broke to take the set.
Despite losing his opening service game of the second set, Djokovic spent the
following 40 minutes tearing Medvedev's serve to pitiful shreds. He broke serve three times in total, constantly returning Medvedev's boldest efforts inches from the baseline. One of the criticisms of Djokovic over his career is that he doesn't have a distinctive finishing shot. That is not really his fault. Most of his winning returns were not even replayed or discussed by broadcasters, but they are as spectacular as any other shot in the sport.
Djokovic ended the set by nailing a forehand return from a bold 116mph second serve straight at Medvedev's laces. By the time the Russian fell two sets down, he had demolished a racquet and seethed towards his team in French, Russian and probably also English.
Medvedev's deeply impressive 20-match winning streak ended here with a convincing defeat that will give him plenty to think about. Still, the current world No 4 has a great chance of becoming the first player other than Djokovic, Nadal, Federer or Andy Murray to reach the top two since Lleyton Hewitt in 2005. He will continue to be an irritant for years to come.
Before the final, Djokovic firmly rebuked the notion that his generation had been overrun by the younger guard and the numbers reflect that he is absolutely correct. Although he is vulnerable across best-of-three-set matches, he and Nadal have now won 10 of the last 11 grand slam titles. It took a freakish set of circumstances at the US Open – a pandemic, Nadal opting not to travel and Djokovic's disqualification – for the run to be broken with Dominic Thiem's US Open triumph.
Even without winning every tournament in his path, the past year and this dominant performance in Melbourne has shown that Djokovic remains in firm control of his destiny as he chases history down at full speed.
[ad_2]

Story continues…

Source References:
The Guardian