[ad_1]

Story by: Amy Remeikis The Guardian

Speaking of New Zealand, the NZ ministry of health announced late last night that the genomic sequencing was back for the first two cases it diagnosed in Auckland in February – and it is the more contagious UK variant.
That is also what Victoria is dealing with. There is no link to any other positive cases found in NZ to date, so authorities there are trying to find the link.
Just a reminder – Australia closed its borders to NZ overnight – anyone arriving on a plane since that order went through will go into hotel quarantine.
Good morning
Welcome back to Politics Live – and parliament, as we enter the second sitting of the year.
We're minus a couple of Victorian MPs – the snap lockdown meant most had to arrive in the ACT before the weekend. Some have elected to stay at home and will attend virtually.
We enter this sitting pretty much the same as we left the last one – still in the dark over what the final jobseeker rate will be come the end of March (spoiler – it won't be enough) and talking industrial relations as both Labor and the government relish the chance to draw distinctions between their two platforms.
Labor launched a National ad campaign against the government's proposed changes on Sunday night, setting the new battle lines. The government is trying to tell people Labor's plan is a "$20bn tax on businesses" – but hasn't quantified the cost of its own policies on workers (Labor has not released its costings but strongly disputes the government's figure).
Meanwhile, the situation in Victoria and New Zealand has reminded everyone of just how quickly Covid can turn everything back around. Flights arriving from New Zealand, which put Auckland into a snap lockdown late yesterday, are now considered to be arriving from a "red" zone, meaning anyone on the flight will have to go into hotel quarantine.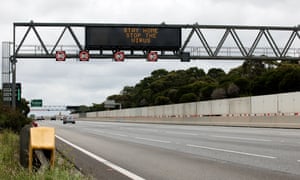 The first vaccine shipment to Australia is due to arrive very soon (it has 80,000 doses), with the first vaccinations to be rolled out at the end of the month. Still, we're not getting to 3 million doses until the quarter ending in June, and it's not going to immediately change things – we're living like this for some time to come.
And of course, there are still questions over how Peter Dutton used a community grants program. Scott Morrison has said he hasn't broken any rules, so all is fine and dandy, but Labor has asked the auditor-general to take a look. We're waiting on that response.
We'll cover all of that and more as the sitting rolls on. You have Mike Bowers, Katharine Murphy, Paul Karp and Daniel Hurst with you to take you through the day's Canberra news. It being a sitting week, you have Amy Remeikis on the blog. I've had three coffees so far and am just thrilled to be back (you can choose if that's sarcasm or not).
OK, ready?
Let's get into it.
Updated

[ad_2]

Story continues…

Source References:
The Guardian