[ad_1]

Story by: BBC News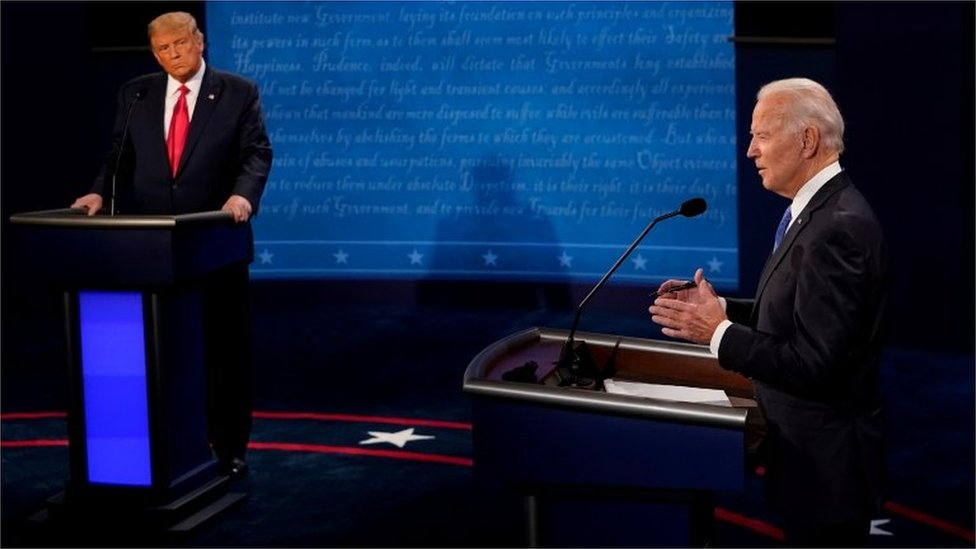 US President Donald Trump and his White House challenger Joe Biden clashed over Covid and race while trading corruption charges, in the last debate.
On the pandemic, Mr Biden would not rule out more lockdowns, while Mr Trump insisted it was time to reopen the US.
Mr Trump cited unsubstantiated claims Mr Biden personally profited off his son's business dealings. The Democrat brought up Mr Trump's opaque taxes.
Mr Biden has a solid national lead with 12 days to go until the election.
But the margin is slimmer in the handful of states that could vote either way and ultimately decide the outcome.
More than 46 million people have already cast their ballots in a record-breaking voting surge driven by the pandemic.
Thursday night's primetime debate in Nashville, Tennessee, was a more restrained affair than the pair's previous showdown on 29 September, which devolved into insults and name-calling.
But there were plenty of personal attacks between the opponents, whose mutual dislike was palpable.
What did they say about coronavirus?
The two offered starkly different visions for how to deal with the coronavirus pandemic.
Asked about his support for more lockdowns if the scientists recommended it, Mr Biden did not rule it out.
But Mr Trump said it was wrong to consider more shutdowns because of an infection from which most people recover.
"This is a massive country with a massive economy," said the president. "People are losing their jobs, they're committing suicide. There's depression, alcohol, drugs at a level nobody's ever seen before."
Mr Biden laid responsibility for the 220,000-plus American deaths from the pandemic at Mr Trump's door.
"Anyone who's responsible for that many deaths should not remain president of the United States of America," he said.
What did they say about race?
During a lengthy back on forth on race relations, Mr Trump said: "I am the least racist person in this room."
He brought up the 1994 crime bill that Mr Biden helped draft and which Black Lives Matter blames for the mass incarceration of African Americans.
But Mr Biden said Mr Trump was "one of the most racist presidents we've had in modern history. He pours fuel on every single racist fire."
He added: "This guy is a [racial] dog whistle about as big as a fog horn."
The mute button, or at least the threat of it, seems to work. In the second presidential debate, both candidates were more restrained. They allowed each other to speak. They used respectful tones. Even when they went on the attack, they did so in a calm, deliberate manner.
After a pugnacious first debate, during which Donald Trump's constant interruptions may have cost him support in subsequent opinion polls, the president has very visibly dialled down the volume – and it made him a much more effective debater.
This time, the content of what the candidates were saying might be what the American public remembers from the debate – not the chaotic manner in which it was delivered.
Once again, Biden largely held up under fire – avoiding the kind of gaffes and stumbles that could have played into Republican attempts to question his age and mental acuity.
The Trump campaign will try to make an issue out of Biden's call for a "transition" from oil-based energy – a risky thing to throw in at the tail end of the debate. In an era of hybrid cars and energy-efficient homes, however, when even petroleum companies employ similar language, it may not hit Americans as hard as Republicans imagine.
In the end, the raucous first debate probably will be what the history books record. And with polls showing most Americans already having made up their minds – and more than 45 million already having voted – the chance that this evening has a lasting impact on the race seems slim.
What was the immigration row about?
The two again argued when Mr Trump was asked about his policy of separating hundreds of children from undocumented immigrant adults at the southern US border.
The president pointed out that migrant children were also detained under the Obama administration.
"Who built the cages, Joe?" he said, referring to the chain-link enclosures where unaccompanied migrant children were held during the Obama-Biden administration.
But the former vice-president said the Trump administration had gone further by cruelly separating families and the practice was "criminal".
What did they say about corruption?
Mr Trump brought up purported leaked emails from Mr Biden's son, Hunter, about his business dealings in China.
But Mr Biden denied the president's unfounded insinuation that the former US vice-president somehow had a stake in the ventures.
"I think you owe an explanation to the American people," said Mr Trump.
Mr Biden said: "I have not taken a single penny from any country whatsoever. Ever."
The former vice-president referred to the New York Times recently reporting that Mr Trump had a bank account in China and paid $188,561 in taxes from 2013-15 to the country, compared with $750 in US federal taxes that the newspaper said he had paid in 2016-17 when he became president.
"I have many bank accounts and they're all listed and they're all over the place," said Mr Trump. "I mean I was a businessman doing business."
What happened in the climate debate?
The two clashed again on energy policy, as Mr Trump asked his challenger: "Would you close down the oil industry?"
"I would transition from the oil industry, yes," said Mr Biden, adding, "because the oil industry pollutes significantly."
He said Big Oil had to be replaced by renewable energy over time with the US moving towards net zero emissions.
"Basically what he's saying is he's going to destroy the oil industry," said Mr Trump. "Will you remember that, Texas? Will you remember that Pennsylvania, Okalahoma, Ohio?"
[ad_2]

Story continues…

Source References:
BBC News