[ad_1]

Story by: BBC News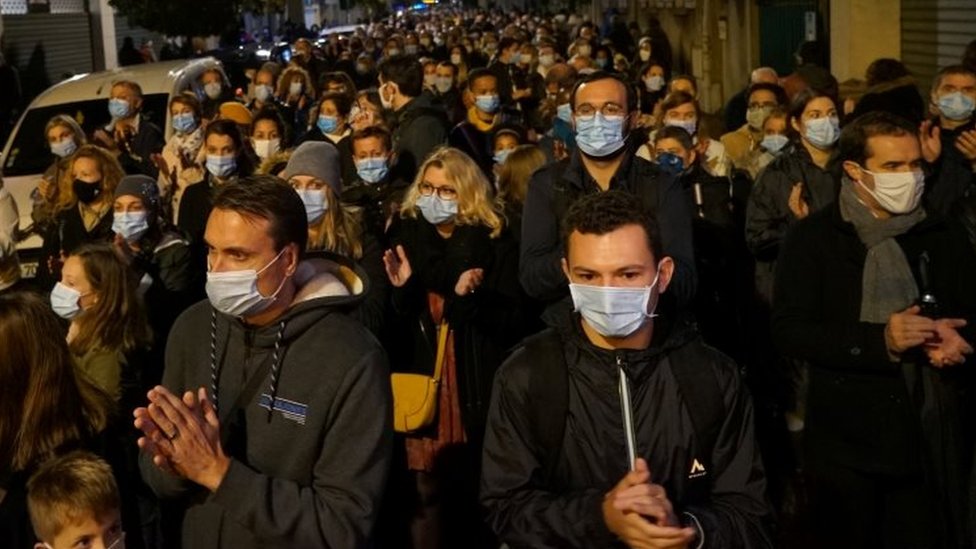 French President Emmanuel Macron has urged Russia to boost co-operation in fighting terrorism after the beheading of a teacher by a Russian-born man.
Mr Macron's comments came in a phone call with Russian President Vladimir Putin, who described Friday's attack near Paris as a "barbarous murder".
Samuel Paty, 47, was killed after showing controversial cartoons of the Prophet Muhammad to his pupils.
The attacker was named as Abdullakh Anzorov, an 18-year-old ethnic Chechen.
Anzorov was shot dead by police shortly after the attack close to the teacher's school in Conflans-Sainte-Honorine, north-west of the French capital.
The brutal murder has shocked France.
On Wednesday evening, Mr Macron will attend an official memorial at the Sorbonne University to award Mr Paty posthumously the Légion d'honneur – France's highest order of merit.
What did Macron and Putin say?
Mr Macron said he wanted to see a "strengthening of Franco-Russian co-operation in the fight against terrorism and illegal immigration", the French presidency said.
It provided no further details about Tuesday's phone call with President Putin.
Meanwhile, the Kremlin published a brief statement quoting Mr Putin as saying that both parties "reaffirmed their mutual interest in intensifying joint efforts in the fight against terrorism and the propagation of extremist ideology".
What is known about Anzorov?
Anzorov was born in Moscow but had lived in France since 2008. His family is from Russia's Muslim-majority Chechnya region in the North Caucasus.
He arrived in France with his family as refugees, French media report.
His grandfather and 17-year-old brother have been questioned and released in the aftermath of the attack.
Russia has played down any association with the attacker.
"This crime has no relation to Russia because this person had lived in France for the past 12 years," Sergei Parinov, a spokesman of the Russian embassy in Paris, told the Tass news agency on Saturday.
Mosque closed amid mass raids
Meanwhile, French media reported that the father of a pupil accused of launching an online campaign against the teacher had sent messages to the killer before the attack.
The father – who has not been named – is accused, along with a preacher described by the media as a radical Islamist, of calling for Mr Paty to be punished by issuing a so-called "fatwa" (considered a legal ruling by Islamic scholars).
Interior Minister Gérald Darmanin said the two men had been arrested and were being investigated for an "assassination in connection with a terrorist enterprise".
Police have raided some 40 homes, following the attack. Sixteen people were taken in custody but six were later released.
On Tuesday, Mr Macron said the Sheikh Yassin Collective – an Islamist group named after the founder of the Palestinian militant group Hamas – would be outlawed for being "directly involved" in the killing.
He said the ban was a way of helping France's Muslim community, Europe's largest, from the influence of radicalism.
The government also ordered a mosque to close for sharing videos on Facebook calling for action against Mr Paty and sharing his school's address in the days before his death.
The Pantin mosque, which has about 1,500 worshippers and is situated just north of Paris, will close for six months on Wednesday. The mosque expressed "regret" over the videos, which it has deleted, and condemned the teacher's killing.
Why was Samuel Paty targeted?
On Monday, anti-terrorism prosecutor Jean-François Ricard said Mr Paty had been the target of threats since he showed the cartoons of the Prophet Muhammad during a class about freedom of speech earlier in October.
The history and geography teacher advised Muslim students to leave the room if they thought they might be offended.
Mr Ricard said that the killer had gone to the school on Friday afternoon and asked students to point out the teacher. He then followed Mr Paty as he walked home from work and used a knife to attack him.
The issue is particularly sensitive in France because of the decision by satirical magazine Charlie Hebdo to publish cartoons of the Prophet Muhammad.
A trial is currently under way over the killing of 12 people by Islamist extremists at the magazine's offices in 2015 following their publication.
France's Muslim community comprises about 10% of the population.
Some French Muslims say they are frequent targets of racism and discrimination because of their faith – an issue that has long caused tension in the country.
[ad_2]

Story continues…

Source References:
BBC News