[ad_1]

Story by: BBC News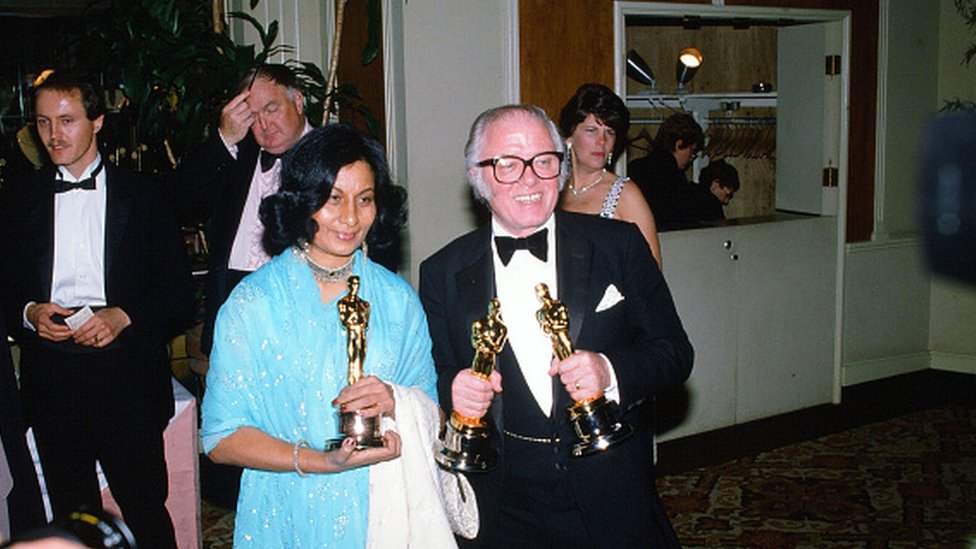 Celebrated Bollywood costume designer Bhanu Athaiya, India's first Oscar winner, has died at the age of 91, her family says.
She was bedridden in recent years after being diagnosed with a brain tumour in 2012, her family said. She died peacefully in the city of Mumbai.
Athaiya was renowned for designing costumes for top filmmakers in a career that spanned nearly five decades.
She shared an Oscar for her work on a biopic about Mahatma Gandhi in 1983.
The invitation by British filmmaker Richard Attenborough to work on the film about the Indian independence leader shot her to global prominence. She shared the award for the Best Costume Design with prominent British designer John Mollo.
Athaiya had worked on more than 100 movies since the 1950s with noted filmmakers such as Guru Dutt, Yash Chopra and Raj Kapoor. She also worked on many Bollywood classics, including the Oscar-nominated film Lagaan in 2001.
In tributes, Athaiya has been revered as a "great" of cinema fashion whose award-winning costumes "put India on the world map".
Athaiya is survived by her daughter, Radhika Gupta.
A life dedicated to fashion
Born in Kolhapur, Maharashtra, Athaiya was one of seven children. Her father was a self-taught artist and photographer who worked in the productions of Indian filmmaker Baburao Painter.
As a teenager, she travelled to Mumbai, where she started her career as a freelance fashion illustrator for women's magazines while learning to paint at art schools.
She was a talented painter but recognised "fashion designing was the more practical option".
She began designing costumes for films in the 1950s, later telling the Indian Express daily that she saw her career as "a way to express myself and let my imagination soar".
"It was so fulfilling that I did not feel the need to do anything else, like opening a boutique," she said. "Top stars started approaching me on their own and recommending me to filmmakers."
Her first break as a movie costume designer came in Dutt's hit film C.I.D. in 1956.
Her career took off from there, giving her the opportunity to create some of Bollywood's best-remembered looks.
It was her costumes for the Gandhi biopic, however, that earned Athaiya global recognition.
An award 'too good to be true'
Athaiya said Lord Attenborough had offered her the job as costume designer for the film within 15 minutes of her audition in 1982.
Designing costumes for Gandhi was tough, she said, because it was difficult to capture the look over decades of his life with no access to the internet for inspiration.
"You can well imagine the kind of study I undertook to create the look," she said.
"The work on Gandhi is closest to my heart," she said. "We covered a huge span of 50 years of his life. To do that, and be a part of showing his life to the world, was a high for me."
In her acceptance speech for the Oscar in 1983, Athaiya thanked Lord Attenborough "for focusing world attention on India".
In 2012, she returned the Oscar to the Academy for safe keeping.
"People may mishandle the trophy, so it's best to return it to the academy," she told the Hindustan Times. "Many filmmakers abroad have also handed over their trophies because their families may not be able to take care of it."
Who has paid tribute to Bhanu Athaiya?
Fans, directors, actors and fellow costume designers have been mourning the loss of Athaiya, hailed by many as an innovator of cinema style.
"An icon of our industry who is most respected and revered she has been the one to take film costumes on the global platform," she said. "Her costumes were meticulous and detailed and always inspired me."
Designer Niharika Bhasin, whose costumes in 2011 movie The Dirty Picture won her a National Film Award, was similarly full of praise for Athaiya.
"Very saddened by the news of Bhanu Athaiya's demise. Our industry has lost of one the greats. Such a contributor to films from Guru Dutt to Oscar-winning 'Gandhi'. She will be studied for her brilliance," she said.
Aniruddha Guha, an Indian screenwriter, tweeted that he was in awe of Athaiya's achievements, writing: "An absolute legend. With a body of work few have accomplished in their lifetimes. Salute."
You may also be interested in:


[ad_2]

Story continues…

Source References:
BBC News